PMC 2019/2020
2019 is our 20th Birthday!
The PMC Team celebrates 20 years of the Primary Mathematics Challenge, thats a total of 975 funny and tricky questions!
Our first Challenge in 1999 had just 311 schools taking part.
Since November 1999;
Around 7500 schools have taken part
over 1.5 million papers have been sold
7875 Medals or badges have been awarded to the best UK Primary Mathematicians for their efforts in the Bonus Round
To celebrate our 20 years we are giving 20% off PMC packs.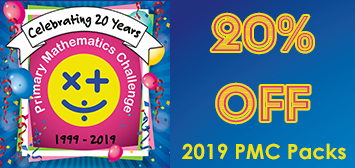 We are also making the first 15 questions slightly easier. We would like to give the opportunity to all your pupils to participate in the PMC this year. Don't worry however, the final five questions are still going to be tricky brain teasers!
PMC in the News
Pupils from St Cedd's School in Chelmsford celebrate their pupils achievements in the PMC Bonus Round 2019
PMC News 2018/19
This year we were delighted that just under 1600 schools and around 67,000 pupils took part in PMC. We received some excellent feedback from the schools, a process which has been made much easier since the full implementation of the on-line enrolment.